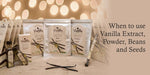 Vanilla beans are pod-shaped fruits that are grown on a climbing orchid of the Vanilla genus. Naturally, vanilla orchids are only pollinated by hummingbirds and bees found in their native land - tropical Central and Southern America*.When grown elsewhere, pollination by hand is necessitated. It boosts the costs as it is a painstaking process.
A vanilla pod can be anywhere from 6 to 12 inches long, and each one contains thousands of tiny seeds stuck to the walls. The vanilla flavour can be credited to the sticky resin surrounding the seeds and the pod wall. It is only released when the pod is damaged.
What is the difference between Vanilla Bean Pods, Vanilla Powder, Vanilla Extract and Vanilla Seeds?
Vanilla Bean Pods
The bean pods are harvested from the unripe orchids. The fresh beans have no scent of their own. They need to be dried to release that wonderful aroma, and this process can take anywhere from a few weeks to several months**. When these pods are heated, they release their flavour and turn brown. These cured vanilla beans form the core of vanilla extract, vanilla powder and vanilla bean paste.
Vanilla Powder or ground Vanilla
Vanilla powder is nothing but dried vanilla beans ground to a fine dark brown powder. If you wish to substitute for beans, go for vanilla powder in which vanilla is the only ingredient like the one offered by Goodness Vanilla.
Vanilla Seeds
Vanilla seeds are the black flakes that are got from scraping vanilla pods and removing the pulp. Although they don't add much flavour to the dishes, they're a great option to give them a stunning visual appeal.
Vanilla Extract
Vanillin extract is made by percolating Vanilla Pods in either alcohol or invert sugar. Chopped vanilla beans are run through a carrier and aged to form the extract. Always add it towards the end of cooking as prolonged heat may change the flavour compounds.
Here's how to use them:
Using Vanilla Pods
Vanilla beans can be split open into half, lengthwise, using a small knife. The pulp can be scraped from the inside and added to your dishes for flavour. The split open beans can also be added to the liquid of your dish, boiled to obtain the whole flavour and finally strained to remove the leftover fibres from the pod.
Using Vanilla Powder
While using vanilla powder, you must remember that it has a highly concentrated flavour. So, if you are substituting it in recipes that call for vanilla extract, you would only need about half of the amount.
The market is plagued with several versions of vanilla powder which contain maltodextrin, sugar or other substances. The best vanilla powder contains completely dried and finely ground vanilla beans like Goodness Vanilla. Here are some ideas for using vanilla powder – 
High heat applications
As an addition to buttercreams and whipped creams to get an intense vanillin flavour without losing out on the consistency
As an addition to dry mixes
Using Vanilla Seeds
The black specks will serve as a visual testimony to the top-notch quality of your dish. The best way to acquire the seeds is to purchase it online.
Here is a list of dishes that can be given a gorgeous, flecked appearance with vanilla seeds – 
Custards
Ice cream
Cream sauces
Using Vanilla Extract
If you are an avid baker, you must have noticed that most of the recipes call for vanilla extract rather than vanilla beans, vanilla seeds or ground vanilla. Here's why – 
It is more economical than the vanilla beans.
It is easily available and is convenient to store, making it a household commodity for most of us.
If vanilla extract obtained from high-grade vanilla beans are used for baking, the results will be fantastic. However, if you want to replace the seeds of an average-sized gourmet vanilla bean in a recipe, you would need about three tablespoons of vanilla extract.
Here's a cake recipe that uses vanilla extract as an ingredient – 
Ingredients
¾ cup butter
2 cups white sugar
3 cups sifted cake flour
3 teaspoons baking powder
½ teaspoon salt
1 cup milk
1 teaspoon vanilla extract
5 egg whites
Method
Preheat the oven to 375 degrees F and grease two 8-inch round cake pans.
Next, cream the butter and sugar till it turns soft and fluffy. After sifting the flour with baking powder and salt, add alternately to the creamed mixture. Beat this mixture, and then add the vanilla extract.
Beat the egg whites in a large glass until it picks foam. First, fold in a third of these whites onto the batter and then quickly the other third. No streaks should be left. Divide the prepared batter into the two pans.
Bake it in the oven till a pricked toothpick comes out clean. Alternatively, you can also test with a finger and check if the cake springs back when touched. This should take about 25 minutes.
Allow it to cool in the pans for ten minutes, and then shift it to a wire rack to cool completely. Cover the cake with white butter icing.
The lip-smacking cake is ready! You can decorate it as you want.
No matter which vanilla option you choose for your next expedition, ensure that it is of the highest quality. Choose Goodness Vanilla for the best experience.