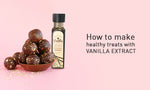 The goodness of vanilla is universally known, loved and accepted. The sublime sweetness and unparalleled characteristics go beyond mere flavour and is a great ingredient to boost good health and wellbeing. Natural vanilla is packed with antioxidants but the same cannot be said about imitation vanilla. Artificial vanilla uses synthesised compounds to mimic the taste of real vanilla and does not contain the same health benefits. 
Vanilla also has fewer calories and carbohydrates while compared to sugar and other flavouring agents, which makes it an apt substitute for sugar in recipes and baking. It also promotes a heart-healthy lifestyle when used in healthy and wholesome recipes. 
Here are a few wholesome treats and recipes to welcome the delicious and healthy benefits of this wonder spice.
Vanilla in Smoothies:
Smoothies are a great way to pack in fibre and increase your intake of fruit and vegetables. It's also an easy, quick and go-to option for breakfast or when you're in the mood for a fuss free meal. The ingredients to a good smoothie include frozen fruit or veg, a liquid base such as milk, plant milk, Greek yogurt or so, nuts for added flavour and body and a healthy sweetener such as honey or dates. A good way to eliminate or reduce the amount of sweetener is to add pure vanilla extract. This adds silken sweetness and oodles of flavour to make your healthy smoothie even more delicious. 
Here are a few combos to try for your next glass of goodness
Papaya + Milk + Honey + Yogurt + Vanilla Extract

Avocado + Almond Milk + Honey + Vanilla Extract

Berries (Strawberries/Blueberries/Raspberries/Mixed Berries) + Vanilla Extract + Greek Yogurt/Plant Milk

Peanut Butter + Milk + Vanilla Extract

Cocoa + Plant Milk + Vanilla Extract + Dates 

Mixed Nuts + Plant Milk + Vanilla Extract

Greek Yogurt + Chia Seeds + Vanilla Extract + Pineapple 

Ground Cinnamon + Apple + Oats + Vanilla Extract + Banana + Dates

Banana + Milk + Vanilla Extract 
Simply blend any of the other combinations until smooth and serve chilled. You could also add a scoop of your preferred protein powder or supplement to increase satiety and your protein content as well. Don't forget to add a teaspoon of vanilla for added goodness and health. Smoothies are a fun way to pack in good health for adults and kids alike. They can be enjoyed as a post-workout treat to keep up energy levels and replenish nutrients in the body. 
Vanilla Health Bombs:
The next time you're craving for something sweet, bite into a health bomb packed with nutrients and deliciousness while satisfying your sweet tooth. Whip up these little treats and store them to munch on as a post-workout snack, quick dessert or just a sweet something to nibble on. They are satiating and sumptuous while keeping your blood sugar levels stable, thus keeping away inflammation too. 
You will need:
Ground almonds or blanched almond flour – 1 cup

Vanilla Extract – 1 tsp

Coconut Oil – ¼ cup

Honey or Maple Syrup – 2 tsp
Here's how:
Mix the above ingredients together until well incorporated. 

Roll into balls or pack into moulds and place in the freezer for 30 mins to set.

For some added goodness, melt chocolate with coconut oil and drizzle over the treats. 
Each of these health bombs are packed with protein, healthy fat and the goodness of natural vanilla and make for the perfect guilt-free treat. 
Hearty Vanilla Granola:
Granola is a fun way to up your intake of fibre while being a scrumptious option as breakfast or even an all-day snack. This crunchy and delicious version is packed with goodness and promises to be a hit at home or on-the-go. With a few pantry staples and a dash of natural vanilla, you can cook and store this treat for up to a month in a cool, dry environment. 
You will need:
Instant Oats - 1 1/2 cups

Coconut Flakes - 1/2 cup

Almond slivers – 1 cup

Walnuts, chopped – ½ cup

3 tablespoons Coconut Oil – 3 tbsp

Maple Syrup – 1/4 cup

Vanilla Extract - 1 teaspoon

Ground Cardamom - 1/2 teaspoon

 Ground Nutmeg - 1/2 teaspoon
Here's How:
Line a baking tray with parchment paper and preheat the oven to 180°C.

Melt oil, maple syrup, vanilla extract over low heat along with the cardamom, nutmeg, and cinnamon. Stir for about 2 minutes.

Mix the oats, coconut flakes, almonds, walnuts, sesame seeds and salt in a large bowl.

Pour the liquid over the oat mixture. Spread the resulting mixture over the baking tray and flatten.

Bake for 25 minutes, or until golden brown.

Set aside to cool for 10 minutes without tossing the granola to retain the crunch.

Shake well and store in an airtight container. 
Enjoy your wholesome, hearty granola over milk, plant milk or even as a crunchy sweet snack to perk up your day. 
We hope these recipes have inspired you to try some healthy vanilla for yourself. Don't forget to stock up on an all-natural, wholesome brand of pure vanilla such as Goodness Vanilla to ensure that your recipes stay healthy and delicious too!