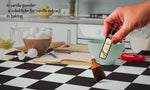 If you like to bake cakes and cookies, then a bottle of vanilla extract is a permanent fixture on your kitchen shelf. With its beguiling aroma and enticing flavour, Vanilla extract has become a staple in most households. After all, who doesn't like the smell of freshly baked vanilla sponge or even bread? 
If you are someone who doesn't bake a lot and wonders if the vanilla extract sitting on your shelf could get spoilt, or if you are looking for a great alternative to extract because of the recipe you are using, you could choose vanilla bean powder. 
What is vanilla powder?
Vanilla powder is touted as a great alternative to vanilla extract. This powder is made from dehydrated vanilla beans. The beans are first dried completely. They contain no moisture. This is done in carefully controlled conditions to ensure zero percent humidity. The dried beans are then ground into a fine brown powder. 
Owing to the production process, this powder is highly concentrated in flavour. As far as quantities are concerned, you require less vanilla powder than vanilla extract owing to its concentration. 
Where do I use vanilla powder?
This powder has an intense aroma of vanilla. It is an excellent choice for avoiding alcohol since many brands use alcohol in their vanilla extract. Besides this, there are other ways in which we can use vanilla powder as a substitute for vanilla extract to get better results while baking.

Vanilla powder is the preferred ingredient in macarons. As any baker who has been brave enough to try them understands, macarons are extremely temperamental. A slight amount of extra liquid could spell disaster while baking macarons. To avoid failure, many seasoned chefs resort to vanilla powder to lend that glorious taste while keeping their macarons looking and tasting amazing. 

It is also a great substitute for vanilla extract in recipes that require prolonged heating. On heating, the alcohol evaporates, and vanilla extract tends to lose its potent flavour. Vanilla powder, on the other hand, retains the flavour. So, you can use the powder if you want your payasam, kheer, or any puddings to pack the punch of vanilla without worrying about the taste being lost when the mixture is heated. 

Instead of sticking a vanilla bean into a jar of sugar to make vanilla sugar, you can add a sprinkle of vanilla powder to the sugar and mix thoroughly. You can use about a quarter of a teaspoon of vanilla powder for a cup of sugar, owing to how potent the flavour is. In some baking recipes, you can use vanilla sugar as a substitute for regular sugar. Vanilla extract is generally not preferred, owing to the moisture content. 

To add a little extra flavour, you can also sprinkle a mix of vanilla powder, icing sugar, and cinnamon on cinnamon buns. This is an additional flavour burst. Vanilla extract forms lumps with sugar, so vanilla powder is the best option here. 

The same goes for hot chocolate. Adding a sprinkling of vanilla powder will give it a whole new flavour. 

Since vanilla tends to lift your mood, a sprinkling of it on your morning toast, buttered rolls, or in your breakfast smoothie would serve as a pick-me-up to beat away those weekday blues. 

Vanilla powder is also Keto and Paleo compatible. Since vanilla extracts contain invert sugar or alcohol, they may not be a part of your diet. However, vanilla powder is an organic product that contains nothing but vanilla. This can be included in your diet. 

This is also used to flavour coffee beans and some teas.

Vanilla powder is also an ingredient in pancake batter, oatmeal, granola bars, and protein bars that do not require the liquid content that vanilla extract has. 
How do you use vanilla powder?
Using vanilla powder is quite easy. Since the flavour concentration is high, it is a good idea to heed the quantity required. An easy measure that usually works is to change the requirement to half. If your recipe calls for one teaspoon of vanilla extract, you could use half a teaspoon of vanilla powder. Sometimes, you might need to add a little more sugar than usual. This largely depends on the type and brand of vanilla extract you use. 
How do you store vanilla powder?
Vanilla powder usually comes in an air-tight package, whether tin or bottle. Like all powdered foods, they must be stored clean, dry, and cool. The container cannot be left open. If the vanilla powder is not stored in an airtight container, there are chances that moisture could seep in. This makes the vanilla powder form lumps. In this case, when you use it as a replacement for vanilla extract, you might end up with the wrong measurement. This could alter the taste of your baked goods even slightly. 
Which is preferred more- vanilla powder or extract?
Vanilla extract is more commonly available than vanilla powder. It is easy to store. It also is an ingredient that is mentioned in many recipes. Since it is a liquid, it is also easy to mix. There is no fear of vanilla extract being concentrated in one part of your cake batter. This could happen if there are lumps in the vanilla powder.
Many people prefer the extract over the powder because it is easily available. Unless a recipe specifically favours the powder, vanilla extract is the go-to option for many chefs, bakers, and pâtissiers. The powdered version of vanilla is usually chosen only when the recipe requires a dry ingredient for stability. 
Since vanilla powder lasts for nearly two years if properly stored, it is also preferred by those who bake occasionally. However, this is unnecessary, as vanilla extract also does not get spoiled and has an indefinite shelf life. Some brands tend to give a 'best before' date to ensure that it is not spoilt by contamination during use.
Goodness vanilla promises a shelf life of 2 years for its extract. This vanilla extract, made using invert sugar, does not need refrigeration. It should be stored in a cool, dry place. Most vanilla extracts come with similar conditions for storage and expiry. Vanilla powder could be a little trickier to store, as moisture could play spoilsport while storing it for a long time.