News — Chilean monkey tail punch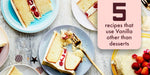 We are sure that you aren't new to vanilla. You would have used it regularly in various kitchen expeditions. What you might not know of it that vanilla can be used for a variety of dishes, and not all of them are desserts. The complex flavour of vanilla helps other ingredients reach their full potential so that you can have mouth-watering wholesome goodness on your plate. Ensure that you use the best quality vanilla for these dishes so that your effort doesn't go in vain. Vanilla apple and thyme martinis Vanilla bean fizz Chilean monkey tail punch S'mores milk shake...
---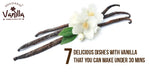 Vanilla is certainly the most wonderful ingredient of all times. It is versatile and adds that perfect twist to just anything sweet that you may cook in the kitchen. Moreover, it is a go-to for the occasional savoury stuff too. Whether you want to treat yourself or have a couple of guests stopping by, these quick recipes will establish your image as a master chef. Vanilla bean fizz Chilean monkey tail punch Vanilla and cinnamon-kissed apple latkes Berries with vanilla custard Vanilla frosting Homemade vanilla ice cream Creamy butterscotch pudding 1. Vanilla bean fizz  Servings – 8 Time – 10 minutes of...
Recent Articles
Categories
Chilean monkey tail punch